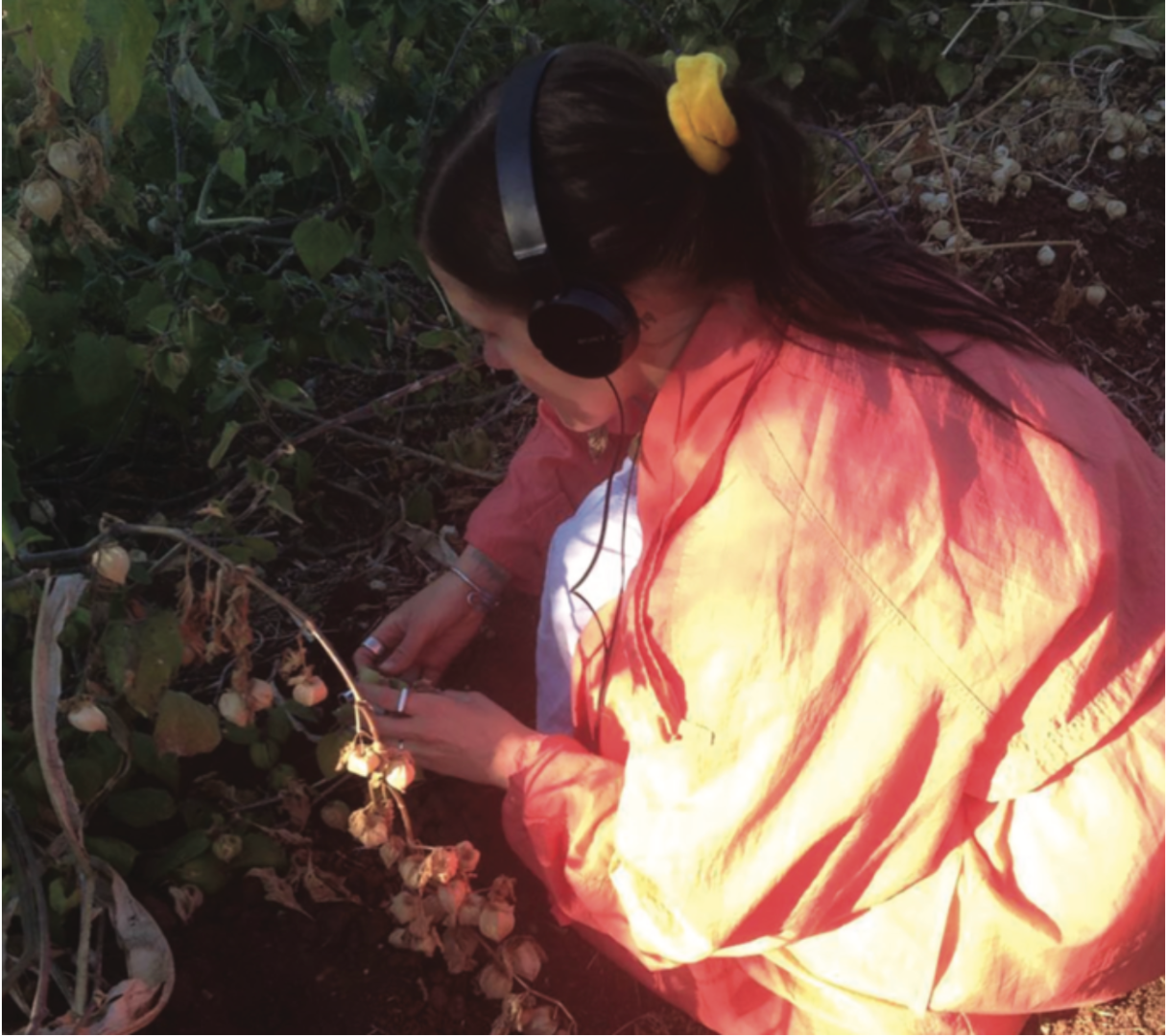 Grace Gloria Denis
Master Trans— 's student from 2018 to 2020.
Grace Denis's work converges agricultural research with interactive installation, incorporating edible material, sound, and image. Implementing the meal as both a medium and a pedagogical tool, her work refers to participatory action research models and engages in collaborations with farmers. She received her BFA from Cal Arts and her MFA from HEAD in Master TRANS–. Grace recently completed the World Food Systems Center's Food Systems in Transition program in partnership with ETH Zurich, studying the challenges of both global and local food systems.
Grace's work has been exhibited in France, Switzerland, the United States, the United Kingdom, Morocco, Greece, and Mexico. She has taught and developed non-profits art education programs for various institutions. In 2021, Grace published the book In, From, and With: Exploring Collaborative Survival, a collectively constructed lexicon that proposes an array of embodied pedagogies. The book explores Anna Tsing's notion of collaborative survival through a series of invitations by twenty-four contributors, including an array of edible and non-edible recipes, and a foreword by Anna Tsing. The book was recently presented as part of Inland Campo Adentro's Degrowth and Post-City seminar.In May of 2021, Grace participated in foodculture days' biennale in Vevey, in which she worked with agroecology collective Praz Bonjour. Her work is currently part of the UN's Food and Agriculture Organization's World Food Forum online exhibition in which a segment of her series Aural Oral can be viewed. In November, Grace will participate in a panel as part of the Agroecology Works'Days of Agroecology speaking with two farmers she has collaborated with under the discussion Learning from the Field: What can agroecology teach us about social dynamics? Her writing has appeared in the Arts of the Working Class's Bite the Hand that Feeds You, the collective Leefwerk's upcoming catalog, and is currently writing an essay on the role of technology in agriculture.
TRANS– was an imperative juncture in the trajectory of her education; it fertilized the confluence of prior work in pedagogy and my practice which addresses the subject of food systems, synergizing the two into a practice of which interaction is the nucleus. Arriving with a nascent interest in socially engaged practice, TRANS– catalyzed an examination of collaborative work and a platform to situate her practice. During two years under the thoughtful supervision of microsillions, she learned to employ tools of criticality from a multitude of angles as well as calibrated her research to that of a participatory action research model, valorizing the implementation of non-conclusion-oriented modalities of research. In TRANS– the subject of interaction lay at the fulcrum of her inquiry and through the horizontality of TRANS– Grace was able to imagine new modes of interaction. From stimulating in-class conversations to the curation of provocative interventions to a plethora of potent references, microsillons nourished a field ripe for critical inquiry with an ecopedagogical narrative that provided a reflective framework for her practice.
Grace Gloria Denis's website